Gallery Ambassador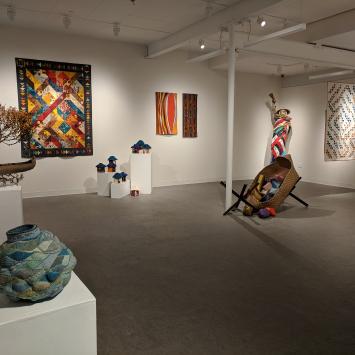 Gallery Ambassador Volunteer Opportunity

From exhibit planning to installation, organizing opening receptions, and welcoming and educating the public, volunteers are vital to keeping The Umbrella's gallery spaces humming with art and activity. As we expand our exhibition spaces and available programming, the Visual Arts program is looking to add to their cohort of Gallery Ambassadors.

This volunteer program offers an opportunity to gain experience and knowledge of a non-profit arts organization and insight into the Greater Boston arts community. Gallery Ambassadors are the face of The Umbrella and an important link between our programs, gallery and our public. They oversee the safety of exhibited work while creating a welcoming environment for visitors. They are also required to attend mandatory gallery and visitor service training.
Gallery Ambassador responsibilities include:
Opening and closing gallery
Enforcing gallery rules in a polite but firm manner
Collecting visitor information
Becoming knowledgeable about the exhibit and artists on view
Initiating and encouraging dialogue with and among visitors
Serving as a general resource for our public by providing information about The Umbrella programs, exhibits, performances and events
Assisting in event/performance production in the gallery
We offer Ambassadors:
Invitations to exclusive talks given by artists, performers, curators, etc
Valuable visitor service training including an introduction to educational theories and techniques
Professional gallery operations experience
Opportunities to work with The Umbrella staff, as well as artists, curators, special guests
Opportunities to create new relationships and networks

We are looking for volunteers with:
- Interest in the arts
- Ability to work independently and collaboratively
- Ability to communicate progress, challenges and setbacks
- Interest in being an ambassador and resource to the public;
- Availability for a regular weekly shift and required training (Gallery Schedule and Volunteer hours will be coordinated with the center's needs and current volunteers)

How To Apply: Email Jess Muise, Visual Arts Manager, with a resume and note of interest at jess@theumbrellaarts.org. Submissions will be reviewed on a rolling basis.