Summer Quest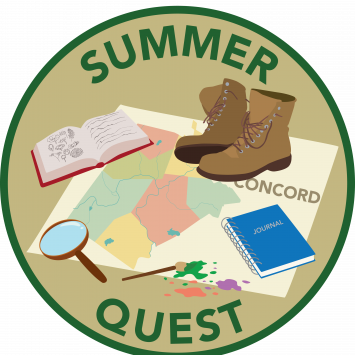 Welcome to Summer Quest!
Gather your supplies, pack your bag, and get ready for adventure! We invite you join us in exploring the lands of the Concord watershed to learn about science, history, art and other topics this summer. 
The Umbrella Arts & Environment with our friends at Minute Man National Historical Park, Drumlin Farm-Mass Audubon, OARS, the Concord Land Conservation Trust, and other area organizations, have created a ton of free summer activities for you to choose from! Complete those activities to collect badges and certificates of accomplishment. Earn enough badges and certificates and you'll get a Summer Quest patch! 
Summer Quest combines the best of each site: 
Minute Man's history activities 
The Land Trust's botany explorations 
OARS' river adventures 
The Umbrella's eco-art projects 
Drumlin Farm's nature journaling 
Subject activities are also being offered by The Old Manse, Concord Free Public Library, Concord Tourism, Walden Woods Project, The Concord Division of Natural Resources, and Arts Arlington (Holy cow! That's a lot of fun places to explore). 

We know this summer is different, maybe you won't be heading to camp, taking a vacation in a far away place, or even seeing your friends as often, but we hope Summer Quest can help make a summer at home a lot more fun. Right here in your own back yard, town, and community you can play outdoors, become an expert on local wildlife, explore history, and create fun art and nature projects.  
What will you learn? What new places will you explore? What new skills will you develop?  Gather your family, choose some activities and go find out! 
To participate, go to each partner organization's website and find their list of activities (links below). Decide which category or organization interests you and get moving! 
There are six categories to choose from: 
Stewardship
Science
History
Social Studies
Art
Literacy
A participant who loves Umbrella art classes might choose from the list of activities offered by The Umbrella Arts & Environment Program. Or if you love all forms of art, then complete art activities at multiple sites. Once enough Umbrella activities are completed, you'll earn your Umbrella badge. If you complete enough art activities, you'll earns your Art certificate. How many activities is enough to earn a prize? It depends on how old you are… see below.

Activities!
Below you will find the activity grid. For details on each activity and how to complete them, check out each partner's website: 
Download and print from a

PDF copy of this grid in our e-brochure.
Download a

PDF booklet describing all of the partners' quest activities.
The Umbrella Arts and Environment Program - You're already here!  
Minute Man NHP
The Concord Land Conservation Trust
OARS
Drumlin Farm
Affiliate activities
Summer Badge Program Earning System 
How to earn a certificate:  
Subjects: stewardship, art, science, social studies, literacy, history
Ages 5-10: 4 activities within a subject 
Ages 11 and up: 5 activities within a subject 
How to earn a "badge":  
Sites: The Umbrella, The Land Trust, OARS, Minute Man NHP, Drumlin Farms, 
Ages 5-10: 4 activities at a site 
Ages 11 and up: All 6 activities at a site 
How to earn a patch: 
Ages 5-10: 4 certificates or badges  
Ages 11 and up: 6 certificates or badges  
(This may seem like a lot, but many activities will count toward a certificate and a badge) 
*If you complete all of the activities, we will feature you on social media!  
Submissions
When you've completed your activities, please send documents and/or photos showing your work to the Summer Quest e-mail: summerquestprogram@gmail.com. We will review the packet and send out your badge or certificate as soon as we can. We may also reach out to ask if we can share your photos or writing for social media posts or on our websites. 
Please include the following information:
Subject line: Summer Quest Badge or Certificate completed! 
Name
Age
Town 
Which badge or certificate you have earned 
Which activities you completed 
What your favorite activity was and why 
Sign with your name and your parent or guardian's name 
Questions?
If you have any questions about the program or how to complete the activities, please contact us at summerquestprogram@gmail.com with the subject line: Summer Quest info request or call 978-371-0820 x 213.