Are We Home Yet?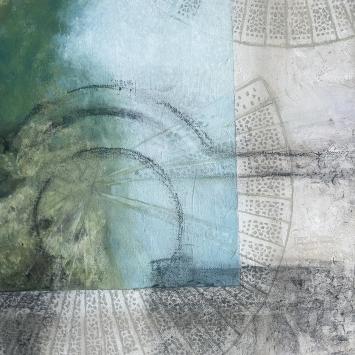 Are We Home Yet?
Art by Sally Lee, The Umbrella's 2021-2022 Artist-in-Residence
October 6 - November 12, 2022
Gallery Talk and Artist Reception
Saturday, October 22, 5-6:30pm 
Artist Statement
As humans, it is innate for us to find a sense of belonging. According to Maslow's Hierarchy of Needs, physiological needs, safety, love, and belongingness are fundamental in the development of human motivation and cognition.
This installation explores the ideas of home. What it means to be home, to return to past homes, and to search for a home. Some have built palaces that are now ruins left with the ghosts of our past. These palaces can be demolished through displacement, personal trauma, and/or grief. In turn, we search for stability, safety, and resilience. Bittersweetness comes to mind during the making of this work, grieving the past while also moving towards a fresh start. The idea of home in this body of work manifests in the metaphorical and physical sense. Can one exist without the other?
About Sally Lee
Sally Lee is a Boston-based installation artist from Arkansas. Lee works in many mediums such as ceramics, painting, sculpture, textiles, and many more. Her art practice has served has a mechanism to navigate her place in the world as a first-generation immigrant. These experiences inform Sally on how to create conceptual work through historical, political and cultural contexts. Like her cultural identity, Lee's combined aesthetic between Eastern and Western styles and philosophies are a part of her artistic fingerprint. Learn more about Sally and her work, and view her April 2022 presentation at The Umbrella.