"Oh Go Ahead" Recycled Sculpture at Millbrook Tarry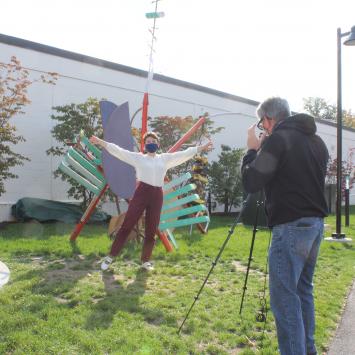 Sculptor, architect and environmentalist William Turville is well known in Concord for live events in which he crafts his vibrant, whimsical creations from recycled materials at the town's DropOff SwapOff. When Covid-19 canceled this spring's event, however, the owners of Millbrook Tarry – home to Concord Market and Trail's End Cafe -- invited Turville to "do his thing" there on-site at their property....and WOW, what a thing he made!

Constructed of colorful recycled materials – from playground parts and tools to Tonka trucks and exercise equipment – Turville's giant creation commanded much of the lawn next to the Walgreens by 71 Lowell Road, and stood almost as high as the building.  The sculpture had a powerful visual impact, but what it didn't have was a name. So, Turville and The Umbrella Arts & Environment program invited the public to join in a naming challenge, receiving more than few dozen suggestions ranging from the fanciful ("Blue-Winged Tonka-Wocky") and wry ("Pileup on Route 2") to musical ("Flying Home [after Benny Goodman]") and mythical ("Chimera Breaths").

In the end, the artist, The Umbrella team, and the hosts whittled the anonymized suggestions down to a shortlist of a half-dozen, with honorable mentions including, "Chaos Turns Listening into Hearing," "The Beauty of Diversity," and " (De)constructed Summer" and runners-up "Wake Up!" and "Change is Good". But the name that spoke to Turville, suggested by experienced artist and painting teacher, Lois Andersen, was "Oh Go Ahead".

The sculpture is just one of several new art pieces to be installed this fall at Millbrook Tarry, including large metal sculptures by artists David Lang, a painted door by mixed media artist Silvina Mizrahi (a preview of The Umbrella's "Go Out Doors – Neighbors" exhibition to extend into 2021), a collaborative picnic table cover painting project, and additional sculptures crafted by Turville out of natural brush  materials found on the property this summer.
A WORD FROM BILL
Artist Statement
I enjoy the freedom of spontaneous composition, or, in jazz music, improvisation, an emotional approach to music and visual art. I often have jazz floating around in my head or as a musical background. As an environmentalist, I am also concerned about the things we discard and what that means … and then what can be done with those things. 
About twenty years ago, the then-Emerson Umbrella's Musketaquid Program, REUSIT and the Recycling Program at the Concord DPW decided to demonstrate the latter issue, "the things we discard", by inviting me to use my improvisational sculpture-making to both inform and entertain the residents of Concord as they took advantage of the DPW's semi-annual Spring and Fall Swap-Off/Drop-Off activities.  Along with the intermittent participation of community members who participated in the art-making, I began using simple construction techniques and modest/quick adaptations of accumulated found "things"/raw materials from the S-O/D-O waste stream to build large-scale versions of the similar but much smaller sculptural objects I had been making.  The day's task was simply to grab a pile of miscellaneous representative objects from the waste stream and assemble them, improvisationally, on the DPW front lawn…one day, one large sculpture showing scores of objects and parts of objects discarded that day.  I really enjoy this work and working method.
I try to make a form or forms that are composed from all viewing angles and that also, if looked at "flat" from any angle, retain an interesting and dynamic graphic compositional idea.