Winter Market
Applications for Winter Market 2016 are due by June 17! 
---
As the holiday season approaches, make a commitment to buy handmade for the holidays from The Umbrella's annual Winter Market! Explore the studios of The Umbrella while shopping for artwork from both resident and visiting artists. Not only will you have a better story to tell when you give the gift, you will also support local artists for their work year round.  
This year, we are excited to announce the following stations throughout the building:
28 participating resident artists
18 guest artists
8 ceramic artists from The Umbrella's Clay Program
190+ artworks on display in Off the Wall
Winter Wonderland Installation
West Wing Cafe with baked goods from Nashoba Brooks Bakery and coffee donated by Starbucks
Slide By Food Truck
Free kids activities in Grandfather's Workshop 
Live Music: Arlington Philharmonic: Saturday at 10:30 am
Live Music: Carloe Berney on Piano: Saturday at 2:00 pm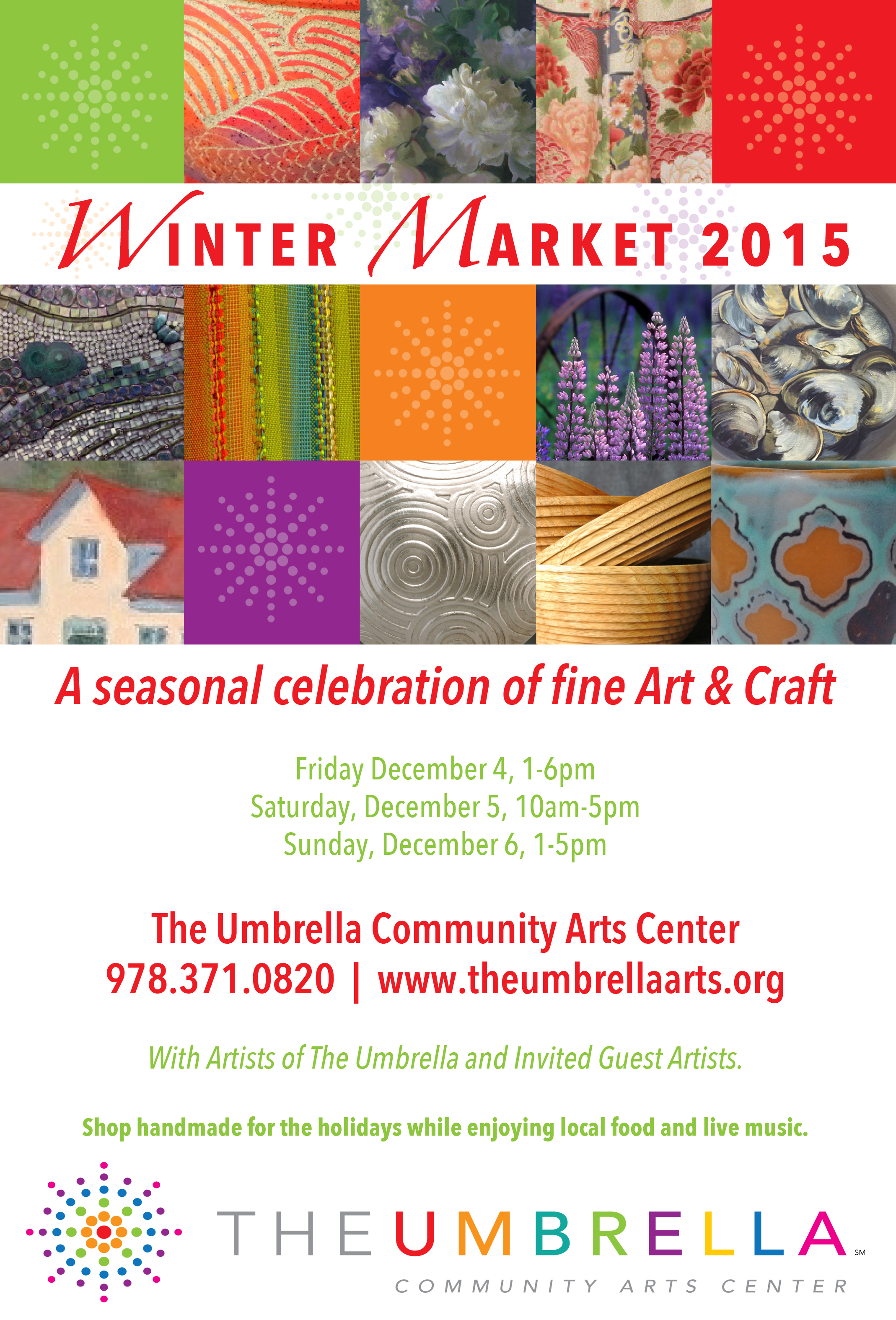 This year, Winter Market is one of seven events taking place during the first week in December as part of the Winter Arts Festival presented by the Visual Art Series of Concord.
Participating Resident Artists

Tina Forbes
Nature Connection
Sue Armstrong
Liza Carter
Max Payne
Carole Parrish
Susan Ticknor
Annie Downes Catterson
Sarah Fagan
Louise Arnold

Guest Artists

Artful Beadworks
Catherine Pritchett
Ji Hwang Jewelry
Studio 200 Glass
Terry Kelly-Ruhman

 

 

 
Ceramic Artists from The Umbrella's Clay Program
Beena Purandare
Heather Lawson
Karen Neurath
Lynn Connelly
Maria Rutzmoser
Tina Browne