The Umbrella has been Driven to Abstraction
January 28, 2015 by Miranda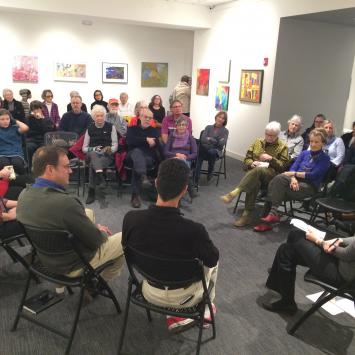 Color and shapes have flooded The Umbrella's gallery this winter in their juried show, Driven to Abstraction.  During the opening reception on January 8, nearly 200 people filled the gallery to admire work from over 40 artists. Resident artists and visiting artists mingled with their guests while visiting the eighteen studios that were open as part of The Umbrella's monthly First Thursday event.
Based on discussions at the opening, a panel of four artists from the show was put together for January 21.  Painters Jonathan Smith and Jerry Wedge and potters Suzanne Hill and KC Cederholm each spoke about what abstraction means to them and how it informs their work.
"I am not a natural abstract artist," started Smith.  "I have to start from a place where I work from something concrete, then I start to break it down and move away from representational imagery."  Smith's detailed abstract paintings draw their imagery from one of two sources: maps and bones.  Once he's done he acknowledges that to some they may not be recognizable, but to him there is always a grain of recognition.
Wedge, both a resident artist and the Executive Director of The Umbrella, defined himself as working purely from the abstract.  As a trained architect turned painter, Wedge's comfort zone lies in the composition, shapes, and mark-making.  Rather than walking the line between representational and abstract, like Smith does, Wedge says, "The line I juggle is between referential and abstract."
The two potters on the panel fell similarly on separate sides of the representational/abstract line.  Cederholm, a student in The Umbrella's ceramic studio for over a decade, commented "I have enough to do with pure abstraction to have to think about a cat or a dog."  His pieces in the show are intricately carved, unglazed porcelain.  When asked about his designs, Cederholm said "I explore the dichotomy between perfect stillness and trying to make things look like they're moving on the pot."
Hill, on the over hand, described herself as an accidental abstract artist.  Although originally drawn to the art world through illustration, Hill ended up in the ceramics studio early on in her career and never left.  "I look for reality first, then you blur your eyes and all you see is shapes and colors," says Hill when asked to describe her process.  She emphasized the combination of control and chaos in her work, referencing the different stages of the ceramic process.  Her comment that "potters are painters who make our canvasses" stirred a dialogue about the difference between the two mediums.
Throughout the hour, the audience asked questions of the four artists while offering their own opinions on art and abstraction.  The panel explored the importance of imagination in abstract art and how each of them felt when a viewer told them what they saw in their art.  Driven to Abstraction is up in The Umbrella Gallery until February 23 and the community is invited to join the conversation about abstract art by visiting the show any time The Umbrella is open or by coming to a scheduled event. 
With Date Night on the First Thursday of February, Joy Buell's talk on Teaching the Figure on February 26, and Nina Earley's talk on the Stories of Walden Pond on March 19, not to mention equally engaging events at the Concord Art Association and the Concord Museum, there is no lack of opportunity to discuss art in Concord and the role it plays in our lives.