Artist-in-Residence
Applications for our 2018-2019 residency are now closed. Contact Jess Muise our Visual Arts Manager via email at jess@theumbrellaarts.org with any questions or for more information about the 2019-2020 residency program.
The Umbrella's Artist-in-Residence program supports an emerging artist within the first five years of their career. The accepted artist is offered the use of a studio at The Umbrella and a one bedroom cottage within walking distance, free of charge.
During their residency, the artist is expected to complete a new body of work. In addition to working in their studio, the artist completes three community presentations that engage both The Umbrella community and the greater Concord community in their practice.
This program started in 2014 with our first artist-in-residence, Nina Earley.  Nina is an interdisplinary artist whose conceptual work includes cyanotpes, printmaking, photography, and fiber.  Her work was on display in Across the Land and the Water during August 2015. Sarah Fagan, a realistic painter of still lives whose work focuses on the meaningful use of emptiness, was our 2015-2016 Artist-in-Residence.  Her work was on display in  Accumulations during August 2016. Our third artist was Meghan Murray, a portrait painter interested in capturing human interactions through paint. Her work was display in Selfless during August 2017.
Our current Artist-in-Residence is Elizabeth King. Elizabeth King graduated in 2017 from RISD with her MFA in painting. In 2011, she received her BFA in painting from Boston University. She makes paintings that showcase her interests: ranging from printmaking to textiles. Growing up in Massachusetts, her tropical paintings rely primarily on imagination. Elizabeth hopes to draw inspiration from an oasis closer to home during her time with The Umbrella
From September 15, 2017 - June 15, 2018, Elizabeth will be working in Studio 320 at The Umbrella. Stop by Winter Market on December 1, 2, and 3, 2017 or Open Studios on April 7 and 8, 2018 to meet her!
Visit Elizabeth in her studio to see what she's working on or come to one of her free community talks:
October 5, 2017 at 5:30 pm
February 1, 2018 at 5:30 pm
Or see her culminating exhibition:
2017-2018 Artist-in-Residence Exhibition
June 26 – September 10, 2018
Opening Reception: June 28 from 5:30-7:30 pm
On view at the Trinity Episcopal Church, 81 Elm Street, Concord, MA
Elizabeth's Artist Statement:
I make loud, shy paintings. Despite their large size and bright colors, they are constantly trying to slip as far back into the weave of the canvas as possible. I build up thin glazes of dye using wax resists, which result in areas  that feel deeply spacious next to areas that are abruptly shallow.  I weave together complex silkscreened passages on the surface to function as a speed bump, to slow down the viewer's navigation of my paintings. A quickly read painting is the enemy. I think of my paintings as screens, allowing air to flow freely through the interlocked layers. I leave space for air to get through, as it is the only relief in otherwise claustrophobic paintings.
My paintings encourage looking. The narrative, which initially appears to be the main attraction, is only the opening act. At a distance, the scene depicted seems clear, but moving closer doesn't bring more clarity.  The image instead disintegrates, leaving only the colorful residue of the first impression. I paint marks to draw attention to the surface instead of working in service of the narrative. The ambiguity of the story may at first feel frugal, but is made up for with the richness of color and texture that sit in the surface. Once inside my paintings, the hope is that the viewer is no longer concerned with getting immediate answers and can start to adapt to the visual language of brushstrokes and color.
Sarah Fagan's Testimonial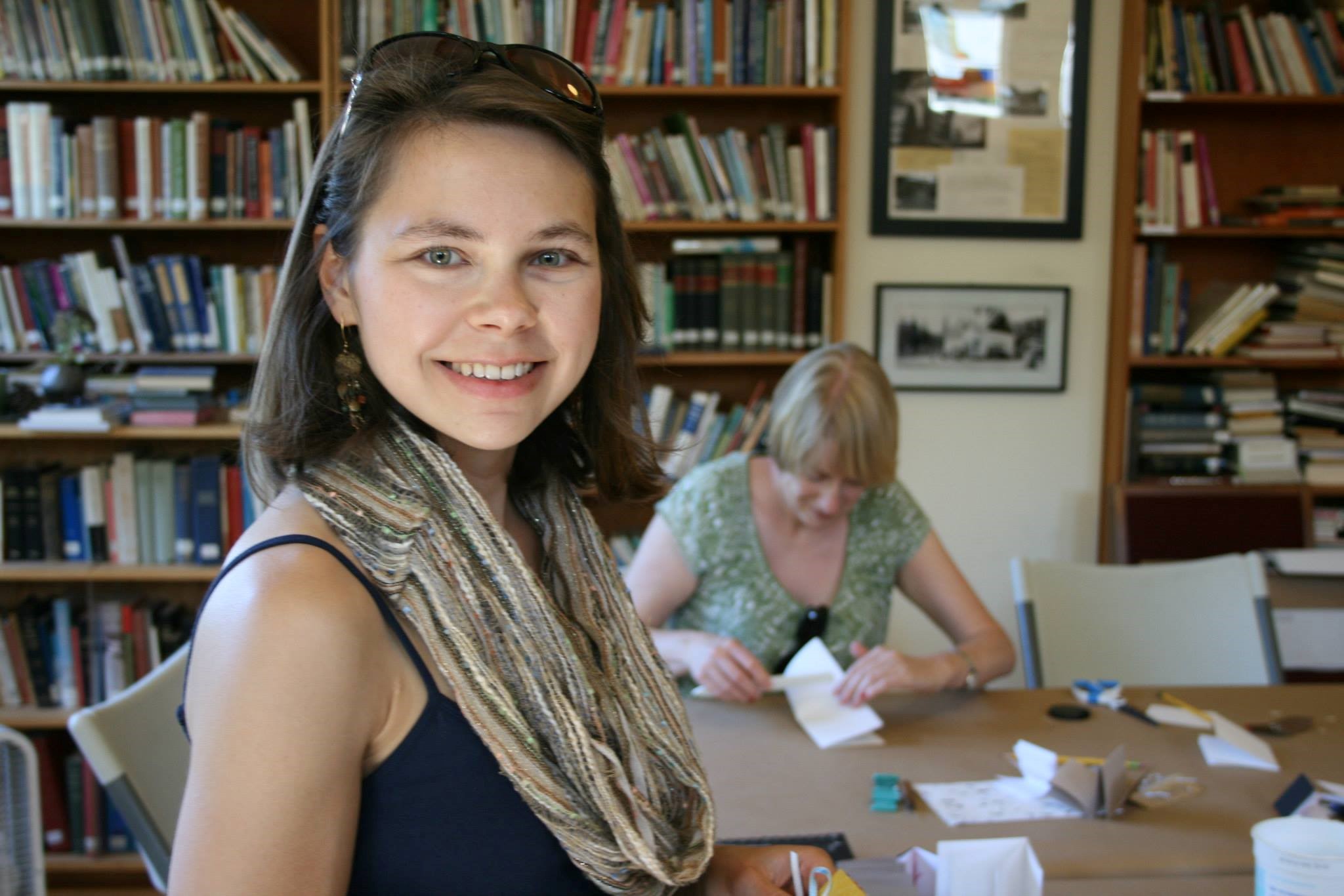 "I grew up in New England, but spent many years in Portland, Oregon. The Umbrella residency was a way for me to move back to my "roots" and establish myself and my work in the art world of the Northeast. Regional art scene aside (and it is a wonderful one), I often need to push myself to explore outside of Concord itself. The town is a wonderful place to live and explore. The Umbrella is filled with good energy, inspiring working artists, and meaningful conversation. Then there is the magical red-floored studio itself, wherein I have produced more work than at any other point in my career. I will remember this residency as one of the greatest gifts I have ever, and will ever, receive. I will remember this year as the one where I found a substantial painterly voice."
Nina Earley's Testimonial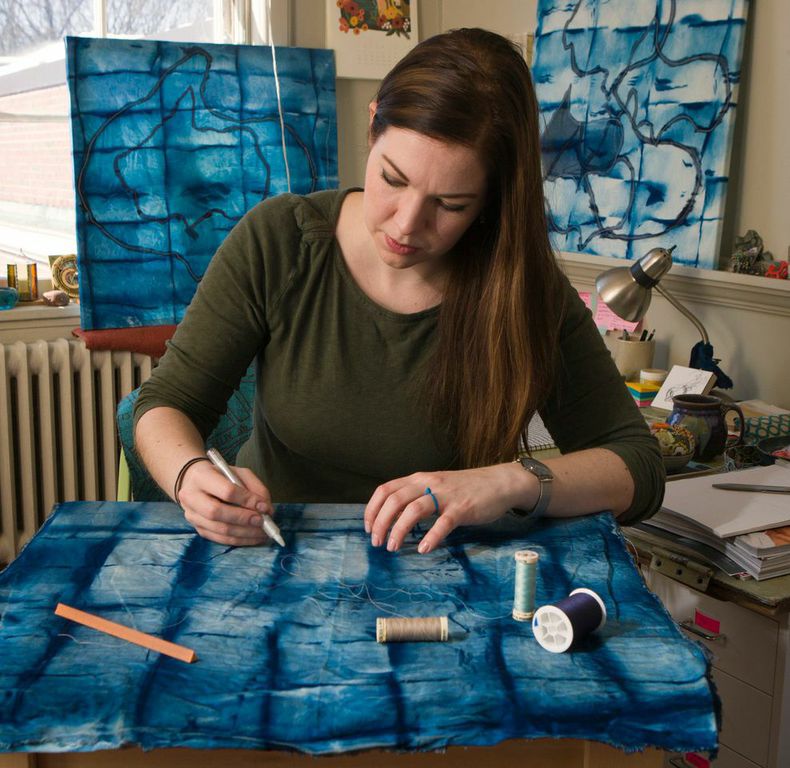 "For an artist who has just finished graduate school, two of the most precious commodities are time and space. Leaving the structure of school, with its deadlines and feedback, and finding a way to establish a studio practice is a daunting task. This residency has given me exactly what I had been missing: a place where I can make art, complete with fellow artists with whom daily interaction is stimulating, and the time to figure out how my studio practice realistically fits into my every-day life. The opportunity to create and lead a collaborative project with fellow artists has allowed me to have meaningful conversations and learn about this historically rich area in a way that would not have been possible without this opportunity. As my work continues to change and I continue to make connections within this encouraging community of artists I am excited to see how this residency continues to impact my practice and work. This experience came at the perfect time in my life, and I would encourage anyone who is hoping to focus on his or her art, while exploring a new region, to apply." - Nina Earley, Artist-in-Residence for 2014-2015