Concert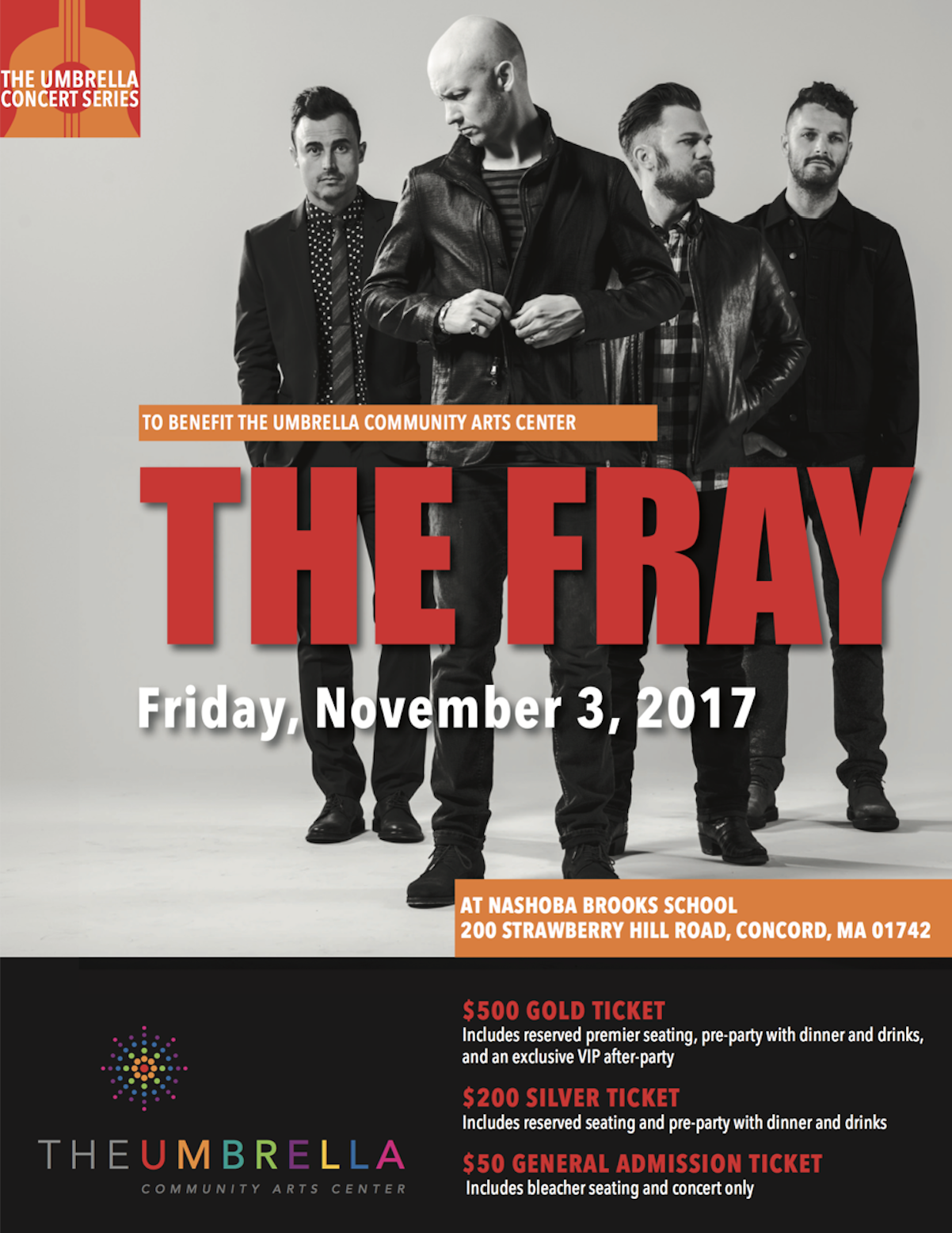 The Umbrella welcomed The Fray on Friday, November 3, 2017 as part of their Concert Series to benefit The Umbrella. The concert and pre-party were held at Nashoba Brooks School, located at 200 Strawberry Hill Road in Concord, MA. Gold and Silver buyers enjoyed a pre-party with a catered dinner, drinks, and live music followed by a performance by The Fray in Nashoba Brooks' intimate theatre. 

The Fray is an American pop rock band from Denver, Colorado. Formed in 2002 by schoolmates Isaac Slade and Joe King, they achieved success with the release of their debut album, How to Save a Life in 2005, which was certified double platinum by the RIAA and platinum in Australia, Canada, New Zealand and the UK. The Fray achieved national success with their first single, "Over My Head (Cable Car)", which became a top ten hit in the United States. The release of their second single, "How to Save a Life", brought the band worldwide fame. The song charted in the top three of the Billboard Hot 100 and was a top 5 single in Australia, Canada, Ireland, Italy, Spain, Sweden, and the United Kingdom.

The group's self-titled, second album, released in 2009, debuted at number-one on the Billboard charts and was certified gold in the United States, Australia and Canada. It was also nominated for a Grammy Award for Best Pop Vocal Album in 2010. The Fray was ranked No. 84 on Billboard's "Artists of the Decade" list. Their third album Scars & Stories, released in 2012, debuted at number four on the Billboard 200. The band's fourth album, Helios, was released in February 2014. The band's compilation album, Through the Years: The Best of the Fray, was released in November 2016.
Thank you to our amazing committee!
Jamie and Beth Athanasoulas
Dennis & Kim Burns
John & Johanna Boynton
Beau & Jennifer Coash
Tim & Maureen Dibble
Matthew & Shelley Growney
Brenda White
Dick & Ann Marie Connolly
Phill & Liz Gross
Robert & Deanna Hargraves
Mike & Mary Ellen Harney
Melissa Koester
Mike & Sheilah McCauley
Ellen McHale
Charlie & Nancy Morrison
Bob & Laura Reynolds
Wade Rubinstein & Jill Block
Susan Solomont
Hilary Taylor
Chad Tyson