Unboxed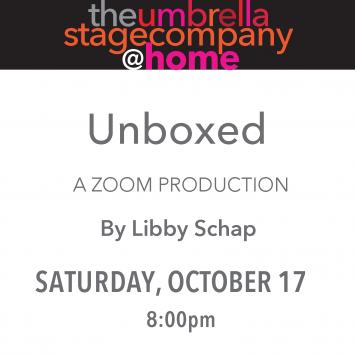 POSTPONED - DATE TBA
By Libby Schap
Directed by Michelle Aguillon
NEW PLAY PREMIERE!
In this engaging new family drama written for virtual performance, Jason aspires to make a presence online with his unboxing videos. He is unsuccessful, until one day a tragic event changes everything for him.
Directed by Michelle Aguillon, the production is part of The Umbrella Stage Company's @Home New Works series, spotlighting original plays by local playwrights.
The cast features Dwayne P. Mitchell as Jason, Pier Lamia Porter as Nia, Tah-Janay Shayoñe as Delia, Jordan Pearson as Dexter, and Maureen Aducci as Mom.
Libby Schap is a Boston-based actor, puppeteer, and writer. Performing credits include Picnic at Hanging Rock (imaginary beasts); Matt & Ben (LL Production Co); Midnight Zoo (Puppet Showplace Theater); 4.48 Psychosis (NOLA Playhouse); and Avenue Q (WCLOC). Recent original works include Peggy & the Mad Scenes, a modern play about Benedict Arnold's wife premiering as part of the Chelsea Theatre Works Resident Artists Program, and Flying Lessons, a shadow puppet show awarded The Jim Henson Foundation Production grant to tour throughout the US. Up next, a new shadow puppet series called Body Stories, premiering online this winter. More information at www.libbyschap.com or follow on Instagram @Brzezinski.and.Schap
FREE, but RSVP Required
Cast
Dwayne P. Mitchell as Jason
Pier Lamia Porter as Nia
Tah-Janay Shayoñe as Delia
Jordan Pearson as Dexter
Maureen Aducci as Mom
Staff
Directed by Michelle Aguillon