Lynn Avery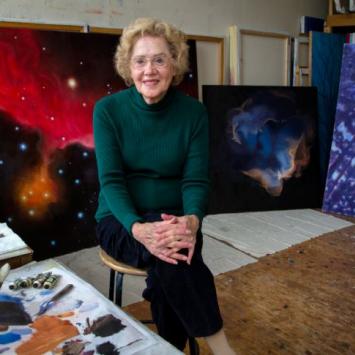 Lynn Avery's artistic talent was evident from a very early age. Her parents, both extremely accomplished individuals, had a profound influence on her. Lynn's mother, an Interior Decorator, was very creative and able to "transform anything", be it a home, a garden or a meal. Her father, an Electrochemical Engineer from MIT, shared his interest in the stars and in the Universe with his children.
After attending college in Virginia, Lynn's interest in portraiture and painting took her to Europe for further study, first at The Academy of Fine Arts in Florence and then in Paris. This was a time of tremendous growth for the artist. Exposed to the great museums and vast collections of art in Europe as well as her experiences with differing cultures, Lynn's horizons were broadened both as an artist and as a person.
Upon returning to the United States, Lynn married and her career as an artist took a back seat to raising a family. Nearly thirty years later, she returned to the art world by attending The School of The Museum of Fine Arts in Boston. With the close proximity of the MFA, Lynn was again surrounded by some of the world's best art at a critical stage in her development as an artist.
Having moved from Cambridge to Lincoln, MA, Lynn involved herself for twenty-five years with the DeCordova Museum and Sculpture Park. After her divorce, she became one of the earliest members of The  Umbrella Arts Center where she has occupied the same studio for thirty years.
After exploring abstraction, Lynn initiated a series based on" The Family of Man", followed by a lengthy series exploring the naturally abstracted properties of trees entitled "The Sacred Forest". As an environmental activist, the artist was and is deeply concerned about what is happening to our natural world. Her present work has her exploring natural abstraction again in paintings of the Universe based on photographs from the Hubble Space Telescope. The large scale of Lynn's work allows the observer to experience rather than merely view the paintings' subjects as well as the artist's fine brushwork.