Leah Wang and Kevin Smith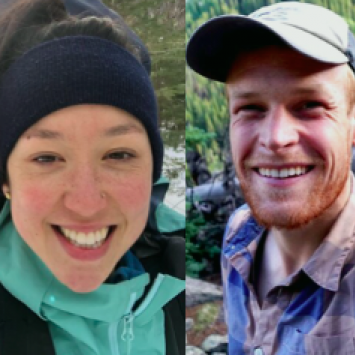 Leah Wang
BA, Environmental Studies + Economics, Bowdoin College
MS, Sustainability Science, UMass Amherst 

Leah brings experience in outdoor education, agriculture, and sustainability to Wild Child Artdoors! After graduating from Bowdoin College, Leah worked on vegetable, dairy and livestock farms and in the farm-to-table world. When not working her day job at a government agency, Leah is leading outdoor expeditions for high schoolers or baking up a storm. Ask Leah about anything related to sourdough bread, permaculture, rock climbing, or small-scale farming!

Kevin Smith
BA, Biology, Bowdoin College
Progressive Education Lab (PEL) Teaching Fellow

Kevin is a high school biology and chemistry teacher in the greater Boston area. Kevin also coaches ultimate frisbee and coordinates an outdoor trips program along with his partner Leah. Before teaching, Kevin worked as a farmer on a small organic farm in Maine and as a field researcher studying grassland ecology. He loves to look for connections between food, place, and science. Kevin finds joy in good coffee, tasty ferments, nature poetry, and exploring the outdoors.