Kate Bird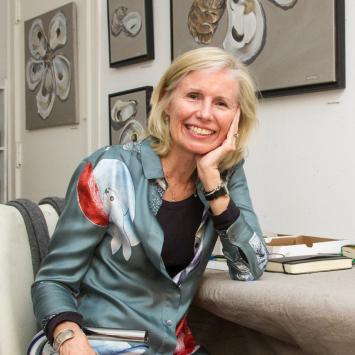 When Kate took up painting exclusively in 2006, Block Island was for her, the single most important subject, and the iconography of her work is derived from that very rich landscape - white sand beaches, blackberry, bittersweet and honey suckle thickets, rocks, seaweed and shellfish. Kate first visited Block Island as an infant, the first granddaughter in a family already deeply committed to the island. It was always a beloved summer location for herself and her own family as well, and source of inspiration throughout the year, but it has begun to figure as the most powerful source for her art. A prolific painter, at times, Kate's studio becomes filled with painted windows into a quintessential New England landscape.
Kate exhibits her work and is a resident artist  in studio 307 at The Umbrella Arts Center in Concord, MA, the Spring Street and HeArt Space Galleries on Block Island as well as Christina Stankard Jewelry of Watch Hill, RI. She studied nineteenth century oil painting techniques at the Boston Academy of Realist Art, an intensive program in reviving a pre-modernist approach to the technical aspects of painting, and has incorporated that knowledge into her own acrylic practice.
Her family moved to Concord in 1972 and Kate moved her own family to Concord in 1985, during which time she pursued a long and creative career in medical illustration and graphic design at Lahey Clinic.  She frequently offered her illustration and design expertise in the Concord community, mostly to the service of the schools, local museums, activities of her daughters,  and the Trinitarian Congregational Church as well as serving on the Massachusetts Cultural Council committee. 
Kate Bird has been painting at The Umbrella Arts Center for almost 10 years, but her connection with Concord and as an arts collaborator in this community runs deep. Wonderfully, her second floor previous studio was once a part of the classroom in which she took high school history!