Film

presents  
The Square

Tuesday, October 9, 2018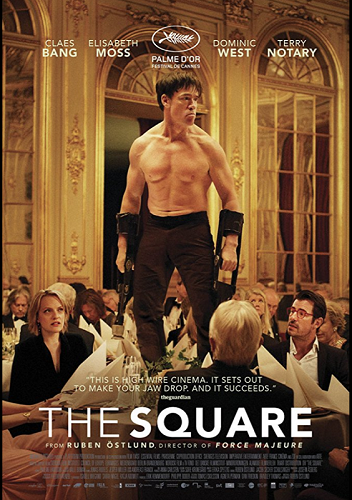 On Tuesday, October 9, we invite audiences to a screening of The Square, directed by Ruben Östlund. The Square is a satirical drama that tells of a chief art curator who struggles with various personal issues. Amid various distractions, a controversial promotional video for an art installation is published without his oversight, threatening his career and sparking a debate about freedom of expression and political awareness. The Square won the 2017 Palme D'Or at Cannes, as well as six European film awards for Best Film and Best Director, and it was nominated for the Academy Award for Best Foreign Language Film at the 90th Academy Awards
Directed by Ruben Östlund | R - Some Violence
Runtime 151 minutes
Doors open at 6:30 PM for food and drinks reception. Film begins at 7:30 PM.
Film tickets are $10 and include a bag of popcorn.
Dinner option is an additional $18 and there is a Cash Bar. 
This month's dinner from Adelita Restaurant is
Meal 1: Steak Asada, along with salad and dulce de leche dessert $18
Meal 2: Mushroom Torta, along with salad and dulce de leche dessert $18
Please select the option for food when you purchase your film ticket.  All dinner orders must be submitted ONLINE by 12 noon on Monday October 8.  
Film tickets may be purchased at the door or online (additional fees apply to online ticket purchases).

Call 978-371-0820 for tickets and information. 
Concord Film Project screenings are held at The Umbrella Annex 57 ORNAC (Old Road to Nine Acre Corner), Concord, MA 
(while Stow St. is under construction)

Organizers Dinah Buechner-Vischer, Kim Burns, and Kristin Canty are thrilled to be presenting a wide variety of film masterpieces to highlight different aspects of the cinematic art form with selections from recent film festivals, old favorites, and the hard to find or rarely seen. "We are excited to provide Concord with access to independent, fascinating films, and the opportunity to socialize, have a glass of wine, talk about the film," says Burns. "We want to provide films that touch and delight the soul and we believe intelligent entertainment and cinematic expertise enjoyed together with friends and neighbors gives it all a deeper layer of enjoyment and meaning." says Buechner-Vischer.
 
Save the dates for Concord Film Project's upcoming films:
Tues, November 27: The Death of Stalin
Tues, December 11: Isle of Dogs
Tues, February 12: Les Guardiennes
Tues, April 2: In the Soup
Tues, May 21: Menashe
Tues, June 11: Shoplifters
 
To Our Viewers:
At CFP we present films that are acclaimed in the community of professional cinema, and represent a broad range of themes and cinematic art forms.  Please bear in mind that the opinions or actions expressed in any film do not necessarily reflect the views of CFP.  We trust you will use your own judgment as to which films are in line with your viewing preferences. Enjoy!