WORKSHOP - Expanding Surfaces: Freshly Thrown and Altered Pots (May 14 & 15)
Course Description:     
Looking for new ways to shape, design, and texture your work? Join us for a weekend with Ben Eberle (www.beneberleceramic.com), getting "comfortable with being uncomfortable," pushing past the safety of the familiar, and making "the round intentionally unround." In this two day event Ben will host a dialogue with our community exploring his influences and process and how they might intersect with our own experience. Day two will invite the group, under Ben's guidance, to experiment with these techniques and ideas first hand.
Saturday, May 14
On Saturday, Ben will begin with slides, story-telling, and examples of work that have inspired him. He will also offer live demonstrations of his process. All are invited to attend.
Sunday, May 15
On Sunday Ben will join us in our studio for hands-on guidance and demonstration. He will show you how to work with a torch and wood blocks to texture and alter the shape of your pots. You will learn to see your pots as "canvasses" for impressed textures and as "skins" for stretching and changing your forms. This event will focus on wheel thrown pottery. Open to all students who can throw a 6" cylinder. Saturday attendance required to attend Sunday demo.
Materials not included; please bring your own tools and clay. Clay can be purchased from The Umbrella here.
To register for SATURDAY ONLY (cost is $50), please click here.
SUNDAY DEMO IS SOLD OUT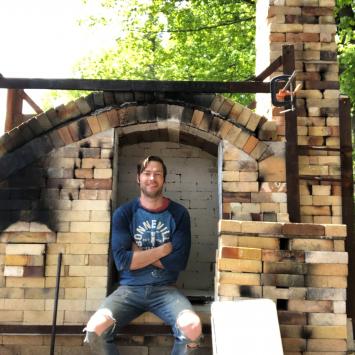 Instructor: Ben Eberle
Ben Eberle, from Conway, MA, began his pottery career at The Umbrella Arts Center in 1993, working with Julie Jospe, a resident artist. With over 25 years of experience, his current work focuses on the unique results he gets from a small, wood-fired soda kiln, highlighting his dramatic textures, alterations, and embossed surfaces.His current work is all functional pottery. He describes his process as: "I never make the same pot twice. In fact,...
Learn More »
Day/time:
Saturday & Sunday, May 14 & 15; 10:00am - 4:00pm