Woodturning: Bottle Opener Workshop
A basic introduction to wood turning, this workshop focuses on making a wood-handled bottle opener. We will use and discuss tools such as carbide and high-speed steel cutters. We will also go over design and ergonomic features, approaches to insure the tool sits well in the hand and looks beautiful. Each student will leave with at least one bottle opener of their own construction. A great way to learn the essentials of wood turning.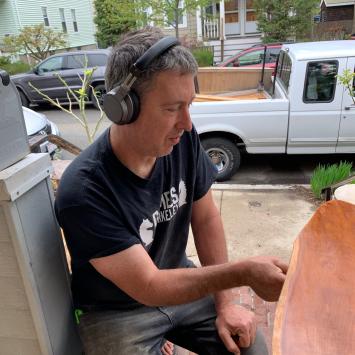 Instructor: Palo Coleman
Palo Coleman is a wood turner and builder, with a turning studio at his home in Cambridge, Massachusetts. After studying under Alan Hark, Palo has developed his own intuitive approach to the wood turning process. He specializes in reviving historical tools and techniques and in reclaiming and salvaging wood that would otherwise go to waste. He believes that each piece of wood has a story to express. In addition to his turning activities, Palo...
Learn More »
Day/time:
Sunday, January 26; 1:00 – 5:00pm