Winter Ninja Festival
Did you have a blast at the Fall Umbrella Ninja Festival? We did too! This winter we are bringing you another fun festival of survival skills and nature sculptures. Master Ninja Instructor Ken Clarkson is teaching how to build a fire the good old fashioned way but also using all sorts of materials you'd never expect to be start a fire with. Rob Riman will teach how to track animals and you'll be surprised by how many creatures you cross paths with. Andrew Joslin, expert tree climber, is sharing fun facts about the forest and leading a scavenger hunt for natural treasures. 
Families are encouraged to sign up ($20/individual kid, $30/family). To limit numbers, we will divide sign ups into two groups. One at 1-2:30pm and one at 2:30-4pm. Everyone who attends this outdoor festival must wear a mask and appropriately social distance. For questions, please email Caroline Provos at caroline@theumbrellaarts.org.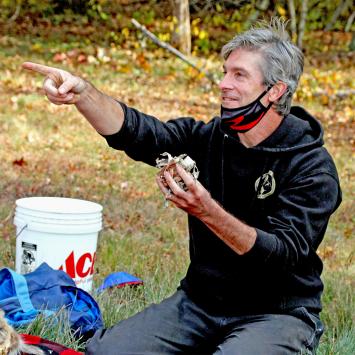 Instructor: Ken Clarkson
Ken grew up in the Blue Ridge mountains of Virginia in eastern U.S. connecting to nature through hunting and fishing with his dad. He ran off to seek grizzly, caribou, and really big fish in the arctic to become a backcountry ranger at Gates of the Arctic National Park, followed by graduate school studying bears and ravens at the University of Alaska, Fairbanks. To thaw out he retreated to Hawaii to become an endangered species wildlife...
Learn More »
Duration:
Saturday, December 13, 1-4pm
Day/time:
Saturday, December 13, 1-4pm
Cost:
$20/individual, $30/family