Oil Painting: Considering Composition and Color
Working with oil paint is a rich experience with a long history. Join this congenial group of dedicated students working in a traditional approach, allowing room for great variety of sensibilities. Emphasis will be on the use of color/values and solid composition.
Classes will include looking at Master Paintings for the class to discuss and analyze. Still life arrangements will always be available as subject matter, or you can supply your own. All levels of experience are welcome.

Basic information for Oil Painting Class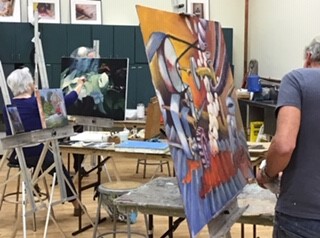 Instructor: Lois Andersen
Lois Andersen is a painter, illustrator and teacher for more than twenty-five years to children and adults, in private schools and community programs. Born in Brooklyn, NY she studied at Pratt Institute, the Art Students League of NYC, and at the Statenskunstakedemi in Oslo, Norway. Her studio is at The Umbrella Community Arts Center where she welcomes inquiries about classes and private instruction. Lois's teaching...
Learn More »