Ninjas in Nature: The Wild Edible Ninja Workshop
Join us for three action-packed days of ninja skills, awareness training, games, and fun. Our theme will be wild edibles. We will learn and gather plants from the landscape, make fire by friction, cook over fires, carve wood and wildcraft from natural resources. We will go on adventure hikes each day to nearby Newbury Field where we will play ninja games. Ages 7-12.
Instructor: Ken Clarkson
Instructor: Rob Riman, https://theumbrellaarts.org/person/rob-riman
COVID protocols include wearing masks and frequently using hand sanitizer.
Parents will be required to fill out a complete medical history for every child.
Registration deadline EXTENDED TO END OF DAY: 11:59pm July 13, 2021!!
Location: Program takes place at Nashoba Brooks School: 200 Strawberry Hill Road, Concord MA 01742 and Newbury Field.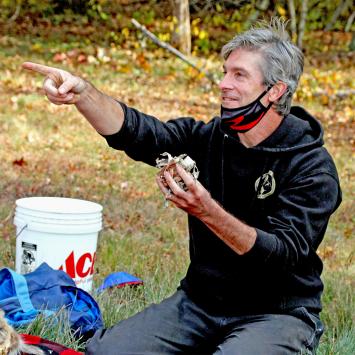 Instructor: Ken Clarkson
Ken grew up in the Blue Ridge mountains of Virginia in eastern U.S. connecting to nature through hunting and fishing with his dad. He ran off to seek grizzly, caribou, and really big fish in the arctic to become a backcountry ranger at Gates of the Arctic National Park, followed by graduate school studying bears and ravens at the University of Alaska, Fairbanks. To thaw out he retreated to Hawaii to become an endangered species wildlife...
Learn More »
Day/time:
Tuesday - Thursday, 9:00am - 3:00pm
Location:
Nashoba Brooks School/Newbury Field