Mini-River Coasters: Epoxy Workshop (February 8 & 15)
Course Description:     
This class is broken into two sections of three hours each. First, we will discuss and create a series of river-table-style coasters and one river table (on the small side) to demonstrate how different epoxies work. One week later, we will meet up to sand, plane, and rout our project after it has cured; then we will oil it for final take-home. Each section is three hours for a total of 6 hours spread over 2 sessions.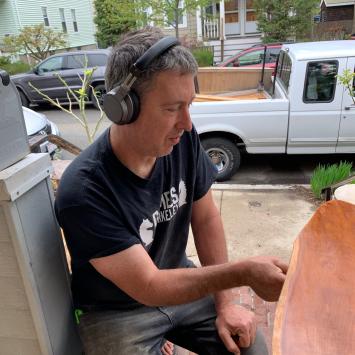 Instructor: Palo Coleman
Palo Coleman is a wood turner and builder, with a turning studio at his home in Cambridge, Massachusetts. After studying under Alan Hark, Palo has developed his own intuitive approach to the wood turning process. He specializes in reviving historical tools and techniques and in reclaiming and salvaging wood that would otherwise go to waste. He believes that each piece of wood has a story to express. In addition to his turning activities, Palo...
Learn More »
Day/time:
Wednesdays, February 8 and 15, 6:00pm - 9:00pm