LECTURE - UNEARTHED: Relics of Memory A slide show and artist talk by Hillary Kane
These are excavations—a digging free of thoughts and reflections, fears and prayers and wonder—transmuted by fire into rock-like totems. They are worry-stones befit for a palm, magnified in scale to lend the proper weight to their remembered significance. They are simple forms, curved or torn or pierced, bowl-like studies in heft and balance, ambiguous references to shapes vaguely corporeal. They are a human archaeology.
UNEARTHED: Relics of Memory
Join international ceramic artist and Umbrella instructor Hillary Kane for a slide show and artist talk. A solo exhibition of Hillary's ceramic sculptures and paintings on display at Lucy Lacoste Gallery until September 24, 2022.
Please note: If this registration is sold out please email zachary@theumbrellaarts.org to be placed on a waitlist.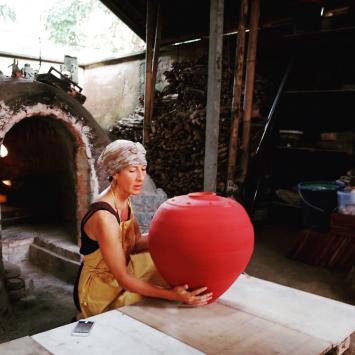 Instructor: Hillary Kane
For Hillary Kane, life is a lot about place. Over the years, "home" has shifted across countries and continents and delivered a richness in languages and cultures, inspiration and challenges that permeate her making practice. Originally having studied painting and printmaking (in Maine and France), it was her work with local farmers in a remote village in west Cameroon that triggered her gut-pull to the medium of clay. A stint...
Learn More »
Day/time:
Sunday, September 18, 3:00pm - 5:00pm