Introduction to Wheel (Ages 8-12)
There are few things more amazing than creating a useful object out of a lump of spinning clay. Learn to use the potter's wheel in this beginning class that will cover bowls and cylinders. We will also explore ways of altering the clay surface and adding hand built items to wheel thrown vessels.

Sign up for Introduction to the Wheel with Alexa on either Monday OR Tuesday!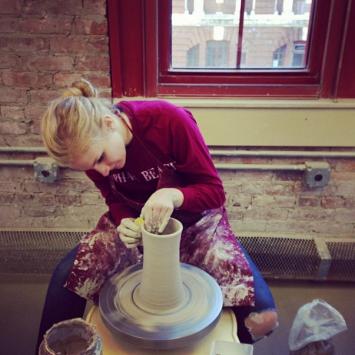 Instructor: Alexa Mattes
Alexa Mattes received her BFA in ceramics from MassArt in 2015. She has worked at Mudflat Studios in Somerville as well as the Webster House in Brookline where she worked with with adults in an art therapy setting. Alexa enjoys creating functional, decorative, and sculptural ceramics with an emphasis on surface decoration.
Learn More »
Day/time:
Mondays, 4:00-6:00pm OR Tuesdays 4:00-6:00pm
Location:
40 Stow Street, Concord, MA