Homeschool All Day Art Program
Course Description:     
Join us for the Homeschool All Day Art Program, a drop off homeschool program that takes place at The Umbrella Arts Center on Wednesdays from 9:00am-2:00pm. In this program students will explore and learn multiple topics such as:
Mindfulness: Children will learn about affirmations, gratitude, identifying emotions, mindfulness, and breathwork. We will spend 30-45 minutes sharing stories, having discussions, and doing projects. Children will learn tools to help them self-regulate, practice positive self-talk, and start their own gratitude practice, which has been proven to have a positive impact on their overall happiness.
Art History/Contemporary Arts: Focus on Artists of Color/ Art as a social practice. Each week we will learn about one artist and their art practice, impact in community, address identity, culture or activism.
Wheel Throwing: Students will be introduced to wheel throwing, centering clay and making a vessel.
Hand-building ceramics: Students will learn the techniques of slab and basic sculpting
Woodworking: Learn tool safety and proper tool handling/use. Students will review measurements, fractions, problem solving, improve creative thinking, respect and a love for tools all while promoting independence and self-esteem.

 

Students should bring snack and lunch.

Daily Format:
9:00am:   Drop off
9:15-10:15am:   Class
10:15-10:45am:   Snack & free time
10:45-11:45am:   Class
11:45-12:45pm:   Lunch and outside time at the park
12:45pm:   Walk back to the Umbrella
1:00-1:50pm:   Class
2:00pm:   Pick up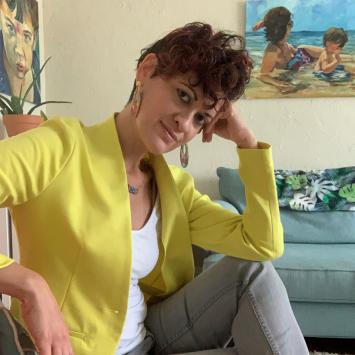 Instructor: Nayda Cuevas
Nayda A. Cuevas was born in Puerto Rico. She obtained a BFA in Fine Art (2002) from Stetson University in Deland FL and her MFA in Visual Arts (2015) at Lesley College of Art (Former Art Institute of Boston) in Cambridge, MA. Ms. Cuevas has exhibited Internationally: Fitchburg Art Museum, Fitchburg MA; Museo de Arte de Caguas, Caguas PR; Palazzo Ca'Zanardi, Venice, Italy; Mattatuck Museum, CT; The Clemente Center Abrazo Interino Gallery, New...
Learn More »
Day/time:
Wednesdays, September 14 - November 16, 9:00am - 2:00pm