The Crystalline Surface
Join Mike for a four week crash course on the art of crystalline glazes. The Crystalline surface is an elusive yet beautiful esthetic that has dazzled potterys for centuries. We will start by making flat ornament and dishes, and continue by learning how the firing and glaze properties can transform your piece into unique works of art.
There are two sections of this class. One that meets on Wednesday mornings and another that meets on Wednesday evenings.
Special Instructions: Students must use either White Stoneware or Porcelain. Course price includes glazes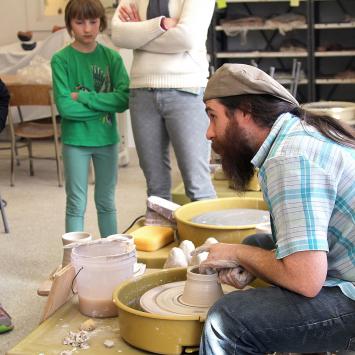 Instructor: Mike Roche
Mike Roche is a ceramics artist originally from the Greater Boston area of Massachusetts. During his freshman year at the Massachusetts College of Art and Design, he took his first course in ceramic hand-building and fell deeply in love with the mediums endless possibilities. Being able to create three dimensional forms and then apply his painterly sensibilities to those forms was an irresistible and welcomed challenge for him. In 2008, Roche...
Learn More »
Day/time:
Wednesdays, 10:00 - 11:00am -or- Wednesdays, 6:30 - 7:30pm