Basics of Flameworking
This two part class will be an overview of Flameworking, aka Lampworking:
Day One: BEADMAKING: We'll learn the basics by making lampworked beads at the torch or "lamp." This is a great way to get started with working hot glass in the flame. Day Two: BOROSILICATE GLASS: We will explore a different type of glass and many new techniques.  We will make marbles, pendants, and small sculpture (time permitting).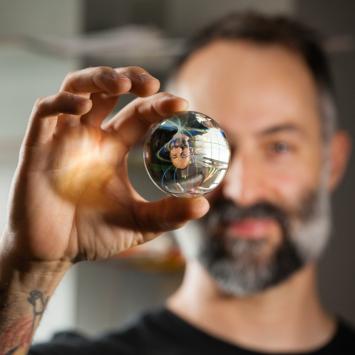 Instructor: Aaron Slater
Aaron is a self-taught glass artist who has been working glass since 2001. Growing up Aaron spent much of his time in the woods of New Hampshire, an amateur naturalist of sorts, observing nature through his trusty magnifying glass and sometimes setting it on fire. But, it was his first snorkeling trip to the reefs of Mexico that changed his appreciation for the natural world forever. "Going from the woods of New England to...
Learn More »
Day/time:
Saturday & Sunday, January 25 & 26; 1:00 – 5:00pm