Basic Design
The Elements of Design are Color/Value, Line, Shape, Texture, Form/Space, and Unity/Harmony.  Abstract projects will be designed to build on one another for you to consider each of these. Each class will concentrate on a different element, one building on another, with home projects to finish for the next class. You will enjoy working your way through these projects and can apply what you learn in many directions: painting, collage, stained glass, weaving, and etc. This experience will also help you in art appreciation as you learn to identify the Elements of artwork you see in a museum or gallery.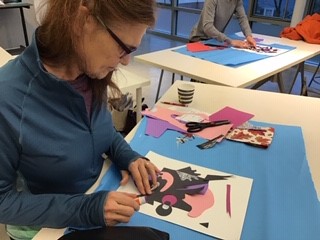 Instructor: Lois Andersen
Lois Andersen is a painter, illustrator and teacher for more than twenty-five years to children and adults, in private schools and community programs. Born in Brooklyn, NY she studied at Pratt Institute, the Art Students League of NYC, and at the Statenskunstakedemi in Oslo, Norway. Her studio is at The Umbrella Community Arts Center where she welcomes inquiries about classes and private instruction. Lois's teaching...
Learn More »