Art and Birding Weekend Class
In this workshop, we will take the opportunity to learn about the birds in our backyards and local habitats, and some techniques for drawing them. I've heard a lot of people comment that the birds seem louder and more obvious during this time of relative isolation. There may be some truth to that, as some species may be emboldened to populate more urban areas that are less crowded with people these days. But it may also be that we are more aware and tuned in to the natural world – a place of solace during this stressful time – and one of the most rewarding ways to enjoy our own backyards is to start birding! We will start by learning some of the species of birds typically seen in our area, including some common songs and calls that make identification so much easier and quicker. Binoculars and a field guide are helpful, but not necessary. This class will be very interactive and allow for questions about local birds that participants are seeing and hearing.
Each week we will focus on a different group of birds (songbirds, shorebirds, wading birds, seabirds, seaducks, and raptors). I will start each week with a slideshow about each group of birds, and we will learn about birding by ear for some of the more familiar species in our area, and some of the best spots to find them. We will then pick one bird from each of these groups to draw together from photographs.
As a life-long artist and biologist, I love to teach the art of noticing – let go of what you think something should look like, and notice the shapes and darks and lights first, not the overall outline of an object. We will work on pencil drawings of birds by experimenting with techniques (shading and smudging, etc.), focusing on ways to make our drawings look most realistic. We will start by drawing from a photograph, but then take what we have learned to be able to draw birds (and other animals) from life. I have really enjoyed teaching parents and their children together – often kids feel a little more free to make mistakes if they see their parents willing to try and try again.
Materials: pencil, paper, eraser; binoculars and field guide to birds helpful but not required
Classes will be held virtually using Zoom and Google Classroom depending on the teacher's preference. Some classes will include 1 or 2 field trips to local Concord-area conservation land, where students will practice the skills they learn virtually. During these field trips, everyone will be required to wear a mask and appropriately social distance. Any questions about social distancing protocol can send inquiries to Caroline Provost at caroline@theumbrellaarts.org.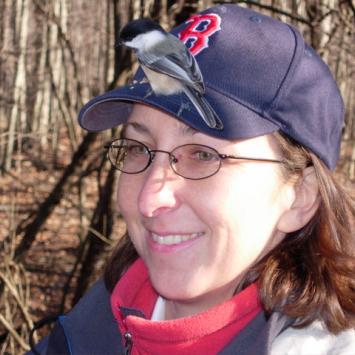 Instructor: Becky Harris
Becky Harris teaches Conservation Biology at Tufts University for the Masters in Conservation Medicine Program. She was previously the Director of Mass Audubon's Coastal Waterbird Program where she oversaw monitoring, management, and protection of threatened beach nesting birds and their habitats at over 100 sites throughout southeastern MA. She founded and directed the Seabird Ecological Assessment Network (SEANET) at Tufts...
Learn More »
Day/time:
Saturdays, October 17 - November 21, 10-11am