Building the Arts Open House
January 24, 2019 by Stewart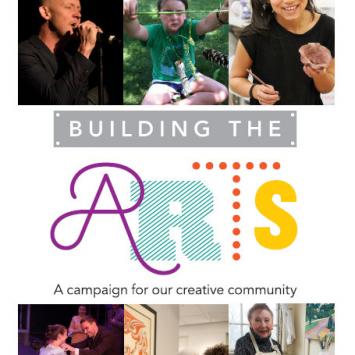 AN AFTERNOON OF ART AND MAKING
@ The Umbrella Community Arts Center
40 Stow Street
Saturday, February 2, 2019
1:00-4:00 pm
Join us to celebrate our new gallery and ceramics studios, explore our new Makerspace and workshop spaces, and experience the ongoing transformation of The Umbrella.
With free, family-friendly activities, exhibits, and winter treats
12:00 - 1:00 -  MAKERSPACE COMMUNITY FORUM
Before the Open House begins, please join us at noon to share your thoughts on what programming, equipment, and creative capabilities you would like to see in our new maker classroom, digital arts classroom, and fabrication lab.
1:00-4:00 - OPEN HOUSE
DROP-IN ACTIVITIES - 1:00-3:30
Drop-in to any of these fun, family-friendly activities, meet some of our wonderful teachers, and learn about upcoming classes and programs.
Weave the classroom in the Makerspace Classroom
Join preschool arts teacher, Sarah Scoville, in a collaborative weaving activity for kids.  With crepe paper, kids will "weave" the classroom using their whole body to create a rainbow network of color and pattern.
Add to a collaborative clay sculpture in the Ceramics Studio
Join ceramics instructor, Alexa Mattes, in making a collaborative clay sculpture.  Families can play and experience working with clay and clay tools. Clay creations can be added to a communal sculpture.  Take your picture to capture the memory and share it on social media. Note: No clay will be fired from this event and all projects recycled afterwards.
Try Lego robotics in the Digital Arts Classroom
Join Alex Salsberg, digital arts filmmaker and animator, as we use ipads to program and control small Lego robots.  Design your own tasks and use found materials to try to move the robot around obstacles for an extra challenge!
See artists at work demoonstrating their processes
Studio 105:  From 2-3 pm, join Paul Ruhlmann in his studio for a wood-turning demonstration
Studio 113:  Visit Deb Richardson as she solders and hammers in her jewelry studio
Studio 303: Join Lois Andersen in her studio demonstrating the painting principles she uses when teaching  Oil Painting classes at The Umbrella
Gallery:  Join Kathy Warren in the gallery as she shares perspectives on quilting
CULTURAL FOLKTALES (30-minute performances at 2:00 and 3:00)
Join award-winning singer and storyteller Valerie Stephens for cultural folktales from West Africa, the Americas, and the Caribbean in the Musketaquid Classroom. 
PROGRAM UPDATES
Throughout the day, Umbrella staff will be available to discuss current and upcoming programs, including: Education Programs in the Makerspace, February and April School Vacation Week programs, Summer Camp, and Spring 2019 classes for adults and youth; Performing Arts, Visual Arts, and Arts and Environment programs
SCAVENGER HUNT
Can you find these new –and old—building details? Submit your entry by 3:30 for a chance to win great prizes!
GALLERY SHOW
"Migration: A curated exhibit of fiber arts".  Join us in our newly renovated Main Gallery for a talk by the curator, Jess Muise, at 1:30 and 2:30.
CELEBRATION: 3:30
Raise a mug to toast the creativity and generosity of our community and get an update on our Building the Arts campaign and expansion project. Warm beverages courtesy of Haute Coffee.
Free and open to the public