Summer Arts Under The Umbrella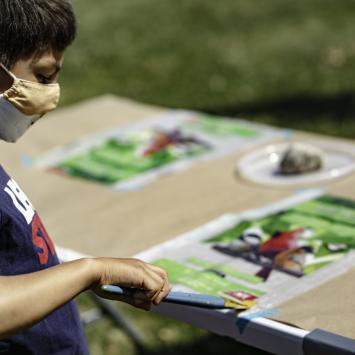 Important Registration Tip for PARENTS:
Create your Umbrella Account BEFORE adding camp weeks for your children to the shopping cart!
Learning, growing, and experimenting through art is at the heart of what we do.
For Summer 2021, we are prepared to continue this mission through In-Person learning following the most up-to-date Covid-19 safety guidelines. Information on the specific steps we are taking to ensure a safe camp environment are available here: Health & Safety.
With a focus on the love of art and a keen awareness of the developmental needs of children and young adults, our programming covers arts education for Grades K-6 (ages 5-12 yrs) instructed by experienced practicing artists, arts educators, and teachers. Additionally we have an excellent Counselor-in-Training program for ages 14-16. 
Small classes, not exceeding 10 students per group, ensure plenty of individual attention and a safely distanced learning environment. This summer, as an additional precautionary measure, classes will primarily be occurring in outside classrooms. Each age group is led by one of our trained Teacher's Assistants. The TA gets to know each child and works to build a cooperative spirit within the group.
We offer arts for every interest.  Children will have the opportunity to try a variety of artistic disciplines. Included may be disciplines such as: Drawing & Painting, 2D and 3D Mixed Media, Ceramics, Performance Art, Woodworking, and More!
Each week has a unique theme with projects designed to engage your child's creativity and artistic spirit. 
Plan around your family vacations or summer camp schedules by mixing and matching weeks / program options based on availability and interests.  We are flexible and will accept enrollment for any combination of weeks.
 
DATES and THEMES:
Week 1: July 12 – 16
Theme: Elements of Nature are an Artists Inspiration
A week of Exploration into how Artists use nature and natural materials as a source of artistic inspiration.
Week 2: July 19 – 23
Theme: Around the World: International Arts
Travel around the world and see how different countries create and celebrate art. Experience the cultures of the world through the universal language of art!
Week 3: July 26 – 30
Theme: Folklore: Myths and Legends*
Explore the origins of some of the most famous stories through art. Come on a journey throughout history as we delve into fables, myths & legends. 
*This week offers more Performing Arts Programming than the Other weeks – Students will still explore other artistic disciplines during this week.
Week 4: August 2 - 6
Theme: STEM / STEAM – Build, Make & Create 
By using the Elements of STEAM – Science, Technology, Engineering, Art and Math learn how the scientific method can be implemented to build, make & create art. 
Week 5: August 9 - 13
Theme: Artistic Aces Solving Cases*
Ever imagined being a spy or solving mysterious cases? This week will let you put on your detectives cap and explore the various mysteries in art. 
*This week offers more Performing Arts Programming than the Other weeks – Students will still explore other artistic disciplines during this week.
Week 6: August 16 - 20
Theme: Weird, Wild & Wacky Ways to Make Art
Take a look into the unusual, inventive and out of the box approaches to making art. This week will focus on exploring new approaches and embracing the creative spirit through various art forms.​
Program Options:
Full-Day: All day In Person! 9:00am – 4:30pm. 
Includes two morning art classes and two afternoon art classes in a variety of different media.  Full day students must be provided with a NUT-FREE lunch from home for the mid-day break & Snacks for a mid-morning & mid-afternoon break.  Weather permitting we eat lunch at Emerson Fields, where they can have outside play time!  
Tuition: Before / After May 12th  = $500 / $550
Half-Day: Morning In Person: 8:30am - 12:00pm. 
Morning only includes two different 1-hour art classes and a break for a mid-morning snack. Half day students must be provided with a NUT-FREE snack from home for the mid-morning break. Weather permitting lunch will be eaten outside!
Tuition: Before / After May 12th = $290 / $340
Ages:
5-12 years (K-6th Grade)
Group 1: Ages 5 - 7 (approx. Grades K-2)
Group 2: Ages 8 - 12 (approx. Grades 3-6)
Counselor-in-Training Program for ages 14 – 16:
CITs are "Counselors-in-training."  The nature of the CIT program is for middle and high school aged young adults ages 14-16 to develop a sense of responsibility through observation, participation, planning and implementation.  Both assistant teachers and CITs have the opportunity to be a great help to both the classroom teachers and the children in all of the classes.
Interested in being a Counselor in Training? Please fill out the following application and send it back or drop it off by May 1st, 2021
Download the form here: CIT APPLICATION FORM
Registration Details:
EARLY REGISTRATION BENEFIT – Register now and save!
Before May 12th : Full Day $500 | Half-Day $290       
On or After May 12th: Full Day $550 | Half-Day $340
Household Sibling Discount: A tuition discount of 5% off additional registrations is available when two or more children are registered for the same week(s).
Please Note: The Umbrella is migrating to a new reservations, payment, and communications system! Our new system will provide streamlined account management, conveniences and benefits to our community members. You will need to create a new account and opt-in for communications. Your account will be saved and can be used for ALL Umbrella purchases going forward. If you experience any difficulties, please let us know and our team will be happy to help.
PARENTS Registration Tip: Create your Umbrella Account BEFORE you add camp weeks for your children to the shopping cart!
Late Registration:
Registrations will close 11:59pm EST on Sunday, 4 weeks prior to the start of the next Summer Program week.
Registrations after a deadline date may be accepted on a space available basis with an additional fee of $50. Parents must contact The Umbrella office by phone or in person and be ready to make payment at the time of registration and complete all of the required camp forms.
More questions?
For additional questions about Summer Camp contact:
Rebecca Campbell, Camp Director