Caitlyn Marsh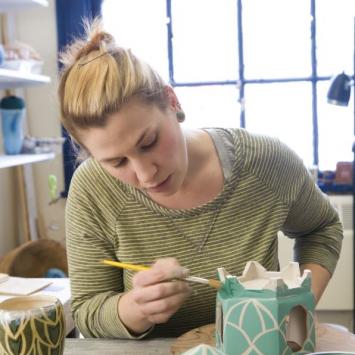 Caitlyn Marsh works in the ceramics department and fires all work made in our program. She began her time at The Umbrella in 2007 right after receiving her degree in ceramics from MassArt in 2006.

On the first floor, Caitlyn has a studio right next to the clay classroom, where she hand-builds & throws pots and small sculpture. She paints patterns on much of her work, and enjoys layering different materials to get a range of textures, colors, and line qualities.

Caitlyn has been teaching at the Umbrella many years, today focusing on adult courses. Formerly the adult beginner instructor, she is now teaching one intermediate course and offers an advanced summer course each year. She always loves seeing the breadth of work generated from the entire department, where many dedicated and skillful students have continued to flourish over her near ten years of managing the studio.