Theater
After a wildly successful 2014-2015 season, The Umbrella will return in the fall with a brand new line up of Bold, Daring and Innovative theater. Tickets will be on sale July 1st, so get yours fast before we sell out!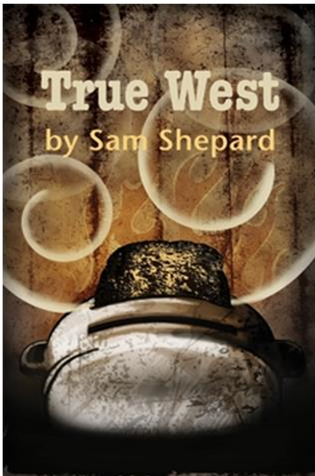 True West by Sam Shepard
September 25 – October 10, 2015
Directed by Michelle Aguillon
Hailed as Sam Shepard's masterpiece, this American classic explores alternatives that might spring from the demented terrain of the California landscape as sons of a desert dwelling alcoholic and a suburban wanderer clash over a film script.
In the process, the conflict between the brothers creates a heated situation in which their roles as successful family man and nomadic drifter are somehow reversed, and each man finds himself admitting that he had somehow always wished he were in the other's shoes.
"I wanted to write a play about double nature, one that wouldn't be symbolic or metaphorical or any of that stuff. I just wanted to give a taste of what it feels like to be two-sided. I think we're split in a much more devastating way than psychology can ever reveal. It's not so cute. Not some little thing we can get over."– Sam Shepard
Bonnie and Clyde: A New Musical
November 6 – 22, 2015
A New England Premiere!
Music by  Frank Wildhorn 
Lyrics by  Don Black 
Book by  Ivan Menchell 
Directed by Nancy Curran Willis
Music Direction by Ben Discipio
America's most notorious lovers and bank robbers take the country by storm in this sexy and compelling adventure!
At the height of the Great Depression, Bonnie Parker and Clyde Barrow went from two small-town nobodies in West Texas to America's most renowned folk heroes and the Texas law enforcement's worst nightmares. Fearless, shameless, and alluring, the TONY-nominated Bonnie & Clyde from the legendary Frank Wildhorn (Jekyll And Hyde, Civil War, Dracula) is the electrifying story of love, adventure and crime that captured the attention of an entire country.
Oleanna by David Mamet
March 4 – 19, 2016
Directed by Rebecca Bradshaw
Named one of Time Magazine's "Ten Best Plays," Oleanna is a seething investigation of "political correctness" in a time when the nation's morality has been tested. Mamet's two person script focuses on Carol, a student and John, her professor whom she accuses of sexual exploitation. Over the course of three encounters, Mamet begs the audience to question what it means to be right or wrong
"Oleanna was one of the most stimulating experiences I've had in a theater. In two acts, he succeeded in enraging all of the audience - the women with the first act, the men with the second. I recall loud arguments breaking out during the intermission and after the play, as the audience spilled out of an off-Broadway theater all worked up over its portrait of . . . sexual harassment? Or was it self-righteous Political Correctness?" – Roger Ebert.
Hair
April 15 – May 1, 2016
Book and Lyrics by Gerome Ragni and James Rado
Music by Galt MacDermot
Directed by Brian Boruta
Music Direction by James Murphy
Choreography by Lara Finn
The original rock musical, Hair, comes alive again on The Umbrella's stage to tell the tale of a tribe of young political activists fighting to preserve their principles and way of life. A product of the hippie counterculture and sexual revolution of the 1960s, it's score became an anthem of the anti-Vietnam War peace movement and shattered musical theatre conventions during its original Broadway production which ran for over 1700 performances. Time magazine says that, "Today Hair seems, if anything, more daring than ever."