Film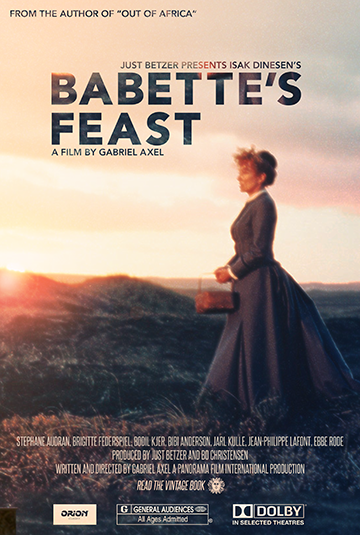 On Tuesday, December 5th, we invite audiences to a screening of Babette's Feast, directed by Gabriel Axel. Set during the late 19th century, this 1987 drama tells of a strict religious community in a Danish village that takes in a French refugee from the Franco-Prussian War as a servant to the late pastor's daughters.
Directed by Gabriel Axel | G
Runtime 122 minutes
Doors open at 6:30 PM and the film begins at 7:30 PM. Tickets are $10 and include a bag of popcorn. Tickets may be purchased at the door or online (additional fees apply to online ticket purchases). Call 978-371-0820 for tickets and information.
Moroccan Grain Salad

Braised Lamb Slider
yogurt, slow rolls

Ginger Cookies
$19.00
Stay tuned for possible location change after December, in case of building construction.
We are hoping to get in a full season through June 2018, but some logistics and film decisions remain TBD
Thank you for your patience!
Organizers Dinah Buechner-Vischer, Kim Burns, and Kristin Canty are thrilled to be presenting a wide variety of film masterpieces to highlight different aspects of the cinematic art form with selections from recent film festivals, old favorites, and the hard to find or rarely seen. "We are excited to provide Concord with access to independent, fascinating films, and the opportunity to socialize, have a glass of wine, talk about the film," says Burns. "We want to provide films that touch and delight the soul and we believe intelligent entertainment and cinematic expertise enjoyed together with friends and neighbors gives it all a deeper layer of enjoyment and meaning." says Buechner-Vischer.