Beginning Spinning
This class is perfect for the absolute beginner, as well as students with some experience that wish to expand upon their knowledge of the potter's wheel. Each week we will learn how to make a different form on the wheel such as plates, mugs, bowls, vases and more, at a slow and steady pace. To train your muscles on how the mechanics of pottery work, we will focus on making each form several times. We will also explore some hand building and surface decoration techniques to bring our pots to the next level!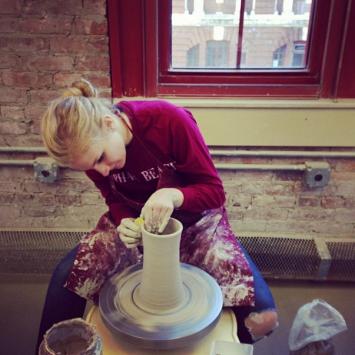 Instructor: Alexa Mattes
Alexa Mattes received her BFA in ceramics from MassArt in 2015. She has worked at Mudflat Studios in Somerville as well as the Webster House in Brookline where she worked with with adults in an art therapy setting. Alexa enjoys creating functional, decorative, and sculptural ceramics with an emphasis on surface decoration.
Learn More »
Day/time:
Thursdays, 7:00 - 10:00pm
Location:
40 Stow Street, Concord, MA